Insulators Testing Machine for Cantilever & Torsion Test
Insulators Testing Machine for Cantilever & Torsion Test
Cantilever & torsion test equipment is used for the mechanical bending test and the torsion test of post insulators according to the test methods and acceptance criteria of technical standard IEC 61109 and IEC 60383.
General Details
Technical Info
Comments
Related Products
General Details
What is a cantilever & torsion testing machine?
This test machine is mainly applied to perform cantilever (bending) and torsion testing of post insulator, including composite post type insulator, composite pint type insulator, ceramic post type insulator, ceramic pin type insulator.
What does a cantilever & torsion testing machine do?
This machine is multi-functional, for both the cantilever tests and torsion tests. The vertical structure of this testing machine is applied for easy installation and assembly of spare parts, and also it is better to simulate real using the environment of post insulators either in power substation or overhead transmission lines.
How does this testing machine do the cantilever test and torsion test to insulators?
The machine is composed of the main body, measuring system and data processing system controlled by computer. By using software control, the testing procedure is performed easily and smoothly, with accurate testing data and curve automatically drawn, results can be saved and printed. Servo motor is applied in the loading system enables it to perform tests continuously as preset and the user just has to put on the specimens. It can also automatically monitor the testing force, speed of loading, maintain peak force and etc. Overload protection and deflection protection are two main functions during the testing process. The testing result is saved after tests that can be recalled and printed.
How many types are there for a cantilever & torsion testing machine?
This cantilever & torsion tester has two types: Horizontal type and vertical type.  Figures show the vertical tester, as this type is used more by manufacturers of insulators and electrical laboratories due to its convenience of specimen for HV insulators below 66kV with section length less than 1.5meter. For long rod insulators like 400kV suspension/tension insulators, its section length can be up to 3 meters or even longer, it's recommended to use a horizontal type test machine since the insulator specimen is too long to be easily mounted vertically.
Can we order customized dimensions to test our own insulators?
Yes, to adapt different section lengths of post insulators, the type and testing length of this test machine can be customizable for each user.
Technical Info
Max testing force: 50kN
Testing range and accuracy
50kN Sensor: Testing range:1-100%, accuracy: better than±1%
Testing force accuracy
Constant speed control of the force
Pressure holding accuracy: ±1% of the value set
Control range of force under constant speed of 0.1~100%FS/min
Controlling range: 2~100%FS
Force can be set in above cited range and hold pressure
Bending test can be done in 4 direction
Max torque: 10kN.m
Torsion test accuracy: ±1%
Rotatable calibration: no restriction
Rotatable angel: 4 direction
Measuring accuracy of torsion: less than 0.1°
Type of test: sample test
Related Products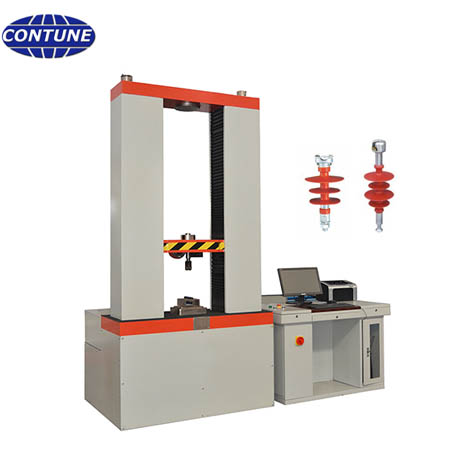 This equipment is applied to mechanical tensile and bending (cantilever) tests of insulators below 36KV with section length less than 1m. It's an economic test solution for the manufacturer of 11/33kV insulators.