Polymer insulators are important electrical items in electrical power overhead transmission, distribution, and substation lines. They provide reliable insulation between cables and iron towers, or between conductors and connecting fittings like clamps so that the electricity can be transmitted safely. With the global growth of the electrical industry, more and more people smell the potential opportunity and plan to build their own factories to produce insulators.
Of course, there are many types of insulators. Today, we are only going to talk about the 11kV polymer insulators production line.
What is an 11kV polymer insulator made of?
The 11kV polymer insulator is made of several parts: silicon rubber material, fiberglass reinforced core and metallic fittings. It's also called an 11kV composite insulator or an 11kV silicon rubber insulator.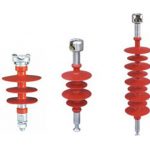 Where are 11kV polymer insulators applied?
11kV polymer insulators are mainly applied to 11kV power distribution lines.
What machines are needed for an 11kV insulator production line?
To make an 11kV polymer insulator, we need several steps, and for each step, specific production machines are needed. They are:
FRP grinding machine
This machine is applied to grind the fiberglass core (FRP rod), it makes the surface of the FRP rod become rough. This process is sometimes neglected by new starters, but actually it's an important step to improve the quality of cohesion between FRP rod and polymeric housing. Every batch of insulators has to pass the quality control inspection, which we call "routine test", and for a new type or customer's inspection, sample tests are necessary too. If the cohesion quality is bad,  test results will expose the problems.
Crimping machine
A crimping machine is used to make the metallic fittings, like ball & socket, or a flange fitting to well attach to the FRP rod. The modern technic has improved to crimping technics, old "glue method" has been abandoned for long. This crimping machine is also a vital production machine of polymer insulators because it will largely influence the quality of cohesion between fittings and FRP core.  A stable crimping machine from a reputed manufacturer is highly recommended because poor crimping quality control will directly lead to insufficient pressure during the work, which may cause insulator slipping defects in tension tests, or over-loaded pressure that cause invisible cracks in FRP, which makes insulator failure in tests or online usage. All these problems will bring tremendous loss of manufacturer's reputation, loss of property, or even human lives due to insulator failures.


Vulcanizing molding machine
This machine is to make the silicon rubber material into the wanted shape with sheds and housing. The silicon rubber will be vulcanized under high temperature and pressure in the molds. For a new manufacturer of 11kV polymer insulators, I believe many people have many concerns about the cost and investment. That's why we recommend this vulcanizing molding machine, low investment in the first place, and quickly gain profit.  In this article, we don't recommend the "injection molding machine" because the price is too high. If a new manufacturer only plans to make 11kV insulators, then vulcanizing the molding machine is a better option. If the manufacturer also produce insulators of higher voltage level like 66kV, 132kV, or even higher like 400kV insulators, then injection machine is necessary. We will write another article about what production machines are needed for 33kV polymer insulators and 66kV polymer insulators production line.
For insulator quality control, it's another topic, we will discuss that later about what essential tests that are needed with minimum investment and cost for a new manufacturer of 11kV polymer insulators.
Please add our website to the favorite in case of missing useful information.
You can also view our production machines and testing machines for insulators meanwhile to get a better understanding of what to do next.