CRIMPING MACHINE 140 FOR COMPOSITE INSULATORS
CRIMPING MACHINE 140 FOR COMPOSITE INSULATORS
$26,500USD
Crimping machine is applied in the production line of high voltage composite insulators. The model no.CTCPM-140 is available for insulators with voltage from 11kV to 33kV, including all types of composite insulators.
General Details
Technical Info
Comments
Related Products
General Details
The crimping machine is used to press the metal fittings of high voltage insulators with high hydraulic force during the insulator production process. It is used in the production line of polymer insulators. With high pressure from hydraulic power force, crimping machine press the metallic fitting from all direction and make the metal fittings well attached to the fiberglass rod of composite insulators.
This crimping machine is necessary for the manufacturer of composite insulators. With this crimping machine Model.CTCPM-140, composite insulator of different types.The type of insulators includes pin type polymeric insulator, post type polymeric insulator, suspension polymeric insulator, tension polymeric insulator (long rod insulator) can be produced with this machine, voltage of which can be from 11KV up to 220KV.
Advantage:
Modern design philosophy

Designed with "Soft crimping" theory, it has function of slow crimping and pressure holding function and it's capable to set pressure by different sections, which assure the best crimping quality. This function is owned by Contune Intl and its collaborating factory only, the effect of which are particularly obvious on insulator of high mechanical load.

Double control to achieve the best crimping quality

Both crimping quantity and crimping force are used to control crimping quality. So under the same condition, this machine can achieve crimping effect with maximum tensile load and minimum discreteness, which largely solves the bad effect caused by the different hardness of ball and socket fitting, improves the effect of crimping.

Higher speed, higher efficiency

With special optimization by Contune Intl, this machine is faster than average product from other suppliers, enabling manufacturers to have higher efficiency in their production.
For higher  voltage of insulator, please refer to another type "crimping machine 165" by clicking "Related products" label above.
Update: 3rd.June.2020. We developed an upgraded type of crimping machine of model no.CTCPM-140, the new model no is CTCPM-140AS, which has optimized structure of oil tank, pipes and some other design inside.
More importantly, the CTCPM-140AS has 2 new features:
1.  Semi-automatic lubrication system

This saves time and works for the operator on maintenance, especially when machines work continuously for a long time.

2. Back stopper function

In previous crimping machine like CTCPM-140, a footswitch is provided for users to control the opening and closing of the crimping dies. In CTCPM-140AS, a new back stopper is added in the back so that users may hold the insulator against the stopper and crimping dies will close to press. This helps users better locate the crimping position and distance from the head fitting.
Technical Info
| | |
| --- | --- |
| Model. | CTCPM-140 |
| Manufacturer | Contune International Co.,Ltd |
| Max crimping diameter | 202mm |
| Max opening diameter | 215mm |
| Length of main crimping module | 97mm |
| Pressing force | 3200kN |
| Crimp frequency | 1000 times/hour |
| Noise level | 69dB |
| Power consumption | 5.6kW |
| Power supply | 380V , 50Hz |
Related Products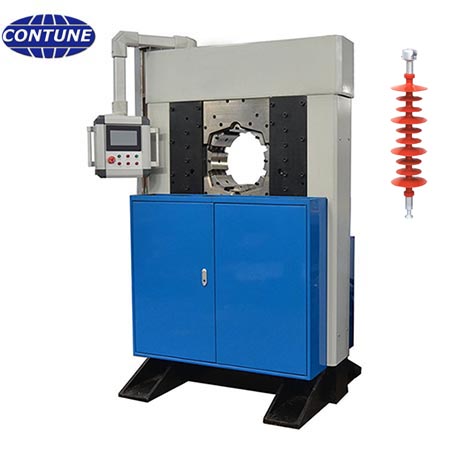 The crimping machine is applied in the production line of high voltage composite insulator (polymer insulator) to crimping metallic end fittings to FRP of the insulator. Model 165 is available for an insulator with voltage up to 800KV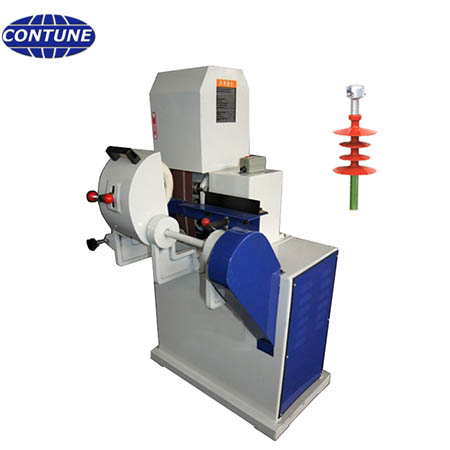 FRP grinding machine is applied in the production line of electrical silicon rubber composite insulators of overhead power lines. It provides an essential technic during the production process.