Water Immersion Pre-Stressing Test Machine of Composite Insulator
Water Immersion Pre-Stressing Test Machine of Composite Insulator
Insulator polymer tightness tester is used to check tightness of polymer housing of composite insulator, whether the polymeric housing is well attached to FRP will be shown after 96 hours of boiling in salty water. This boiling process is also essential as preparation stage of some electrical test of composite insulator.
General Details
Technical Info
Comments
Related Products
General Details
What is a water immersion pre-stressing testing machine?
The Water immersion pre-stressing testing machine for polymer tightness test is also called a water boiling machine in China.It is mainly applied in the insulator test of salty water boiling according to the IEC requirement to composite insulators. The composite insulator is to be put into the testing chamber and the machine heats the salty water in it till it's boiling. After 42 hours (or more) of boiling, pick out the composite insulator when the water cools down and check the cohesion of fiberglass rod and polymeric housing. No detachment or gap shall be found between two surfaces of the material. After such a boiling process, a composite insulator shall be taken for the next stage test: electrical power frequency flashover test and steep-front test. So this polymer tightness testing machine is also used in the pre-test stage of the electrical test of composite insulator.
This testing machine can provide a convenient testing process for inspectors, with automatic temperature stabilizing function and time control, it has a digital display for operating to witness the entire process of test, which makes it very easy to operate.
Technical Info
Reference Standard: IEC 61109:1992,MOD / GB/T19519-2004 Composite insulators for A.C. overhead lines with a nominal voltage greater than 1000V–Definitions, test methods and acceptance criteria
| | |
| --- | --- |
| Model. | QHBT-100 |
| Nominal cabinet capacity | 1.2CBM |
| Nominal cabinet dimension(mm) | 6000*450*450 |
| Temperature range | ≤+100℃ |
| Temperature fluctuation | ±1.0℃ |
| Temperature deviation | ±2.0℃ |
| Digital Display | Yes |
| Temperature holding function | Yes |
| Automatic test control | Yes |
Related Products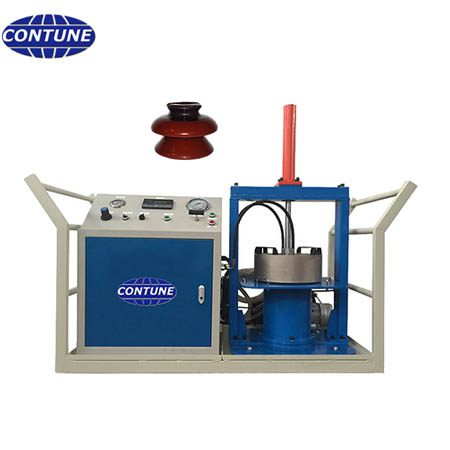 The insulator porosity test machine is to inspect the porosity property of the HV porcelain insulator under a constant high-pressure environment with dye penetration.