Water diffusion test device for FRP core
Water diffusion test device for FRP core
The water diffusion test device is to test the leakage current and withstand property of the FRP/ECR core of composite insulators under AC voltage after boiling in salty water. This test is defined and required in the IEC standard for tests of composite insulators.
General Details
Technical Info
Video
Comments
Related Products
General Details
What is the water diffusion test?
The water diffusion test is a test for FRP core sample of composite insulators, it is to test the fiber-reinforced polymer core under AC power voltage. The water diffusion test is also called the moisture diffusion test, which is an important electrical test and sample test in the IEC standard.
What is the water diffusion testing device?
According to test methods and acceptance criteria of IEC, this testing device is designed to test the withstand performance of FRP core specimen under AC voltage and leakage current under electrical AC voltage.
Why is the water diffusion test so important to a composite insulator?
Simply speaking, a composite insulator consists of FRP core, silicon rubber housing, sheds, and metallic fittings. The function of an insulator is to insulate electricity from two items. And as the FRP/ECR core is in the center of composite insulator and bearing the major mechanical load, we must ensure that the FRP core still remains insulated when moisture penetrates it.
How is the water diffusion test done with this testing device?
We take a sample of FRP and put into a glass container and boil it in water with 0.1% NaCl, after 100 hours (tolerance 0.5h), we take the FRP specimen out and put it into another container of water for 15 minutes. After that, we take it out and test the FRP sample with the water diffusion testing device, connecting the positive pole and negative pole onto the sample and watch the indicator of the testing device. This test shall be done within 3 hours since the specimen is taken out.
Technical Info
Test device name: Water diffusion testing machine
Specimen: sample of FRP / ECR core of composite insulators
Test medium: Water
Time control function: Yes
Leakage current test function: Yes
Country of origin: China
Supplier: Contune International Corp Ltd.
Test voltage range 0 ~ 50000V
Transformer capacity: 5KVA
Test electrical pole: 150mm/50mm 1set each
Leakage current display: HV digital micro-current AMP meter
Water boiling device: 1 set
AC/DC optional
Related Products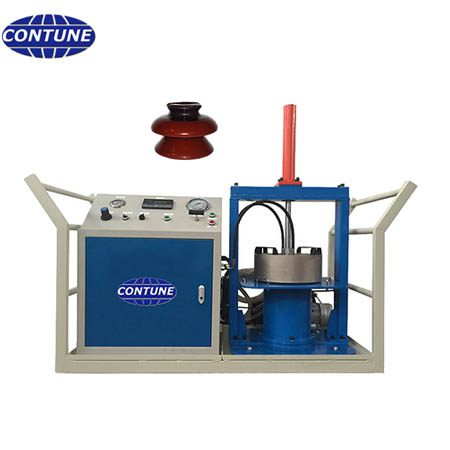 The insulator porosity test machine is to inspect the porosity property of the HV porcelain insulator under a constant high-pressure environment with dye penetration.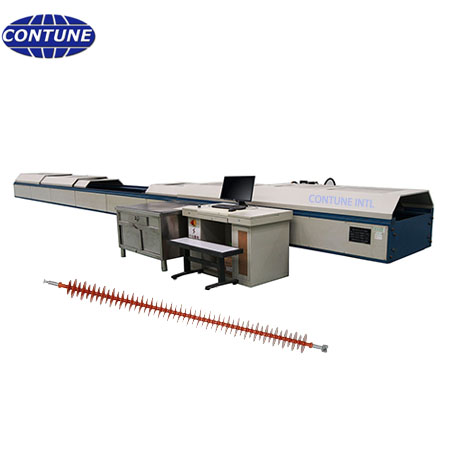 This insulator test machine is designed to perform mechanical property tests of long rod insulators, steel wires, cables, conductors, power fittings, chains, electrical devices, it's also available for mechanical property tensile tests on other specimens with long shapes.